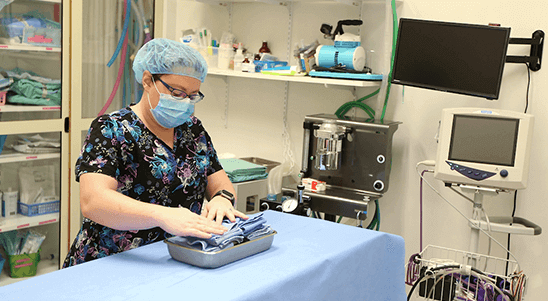 Maintaining The Highest Standards For Surgical Care
Deciding to have surgery on your pet is never an easy choice. At Poulsbo Animal Clinic, we aim to make the process as smooth as possible. Our AAHA-accredited clinic uses the newest equipment, latest surgical techniques, and highest safety standards. Your pet's safety and comfort are our top priority.
Our clinic offers a variety of on-site surgical procedures, including:
Soft tissue surgeries
Spays and neuters
Cyst and mass removals
Oral surgeries
Biopsies
WHAT TO EXPECT
Pre-surgery: Before surgery begins, we take great care to ensure your pet is prepared for the procedure. To do this, we first provide education to owners about the surgery. This education includes a complimentary phone call the business day before the surgery, during which we confirm the time of the appointment and answer any questions owners may have.
On the day of surgery, we perform several pre-surgery examinations and tests to ensure your pet will be safe and comfortable. These include:
• Thorough physical examination
• Pre-surgery blood testing, to make sure that your pet will be safe during surgery
• Customized anesthesia amount and type, depending on the health of your pet
• Pain management using individualized medications
• Additional blood work and diagnostic testing for senior pets or ill pets, if needed
During surgery: While your pet is in surgery, our goal is to make sure your pet is safe and comfortable. A licensed technician will be monitoring your pet at all times. Our trained anesthetists never double as the surgical assistant here. We watch your pet's vital signs using a state-of-the-art cardiovascular monitoring system, which allows us to view your pet's:
• Blood pressure
• Carbon dioxide levels
• Core body temperature
• Heart rate
• Oxygen levels
• Respiratory rate
• Anesthetic depth
Post-surgery: We want your pet's recovery to be as quick and pain-free as possible. Our clinic has several post-surgery procedures we complete, including:
• Pain management immediately following surgery, as well as during the recovery period
• Education on post-surgery care
• Follow-up appointment to monitor progress and remove stitches
To learn more about Poulsbo Animal Clinic's surgical services, please view the following videos of surgeries performed at our clinic:
• Bot fly larva removal
• Out-of-water goldfish surgery
• Neuter surgery
• Umbilical hernia repair
• Duck surgery
• Tooth extraction
• Goldfish tumor removal
Feel free to contact us today to learn more about our surgical procedures or to schedule an appointment. You can also read our case studies here.