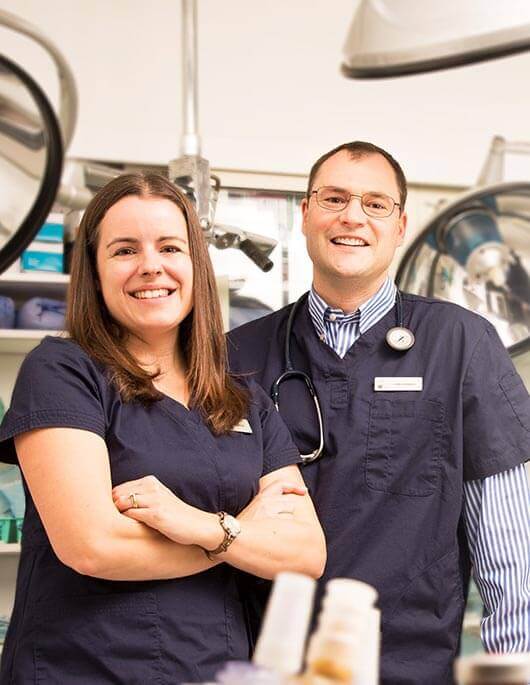 Drs. Bethany and Craig Adams
Dr. Bethany graduated from Washington State University's College of Veterinary Medicine in 2003. After graduation she did a small animal medicine/surgery internship at the University of Illinois. She and her husband moved back to their home state of Washington in 2004 and Dr. Bethany worked for several years at VCA Central Kitsap Animal Hospital in Poulsbo. There she did a combination of emergency medicine and general practice. Her passions include internal medicine and critical care. She stayed home for about two years after the births of Violet and Sawyer. Weston was born shortly after purchasing Poulsbo Animal Clinic (and a couple of months after this photo was taken). Dr. Bethany is thrilled to be in private practice with her husband, and will be seeing patients once weekly. As the practice (and the kids) grow, she will be seen more at the clinic. She enjoys horseback riding and sings in the Bainbridge Chorale.
Dr. Craig Adams graduated from Washington State University's College of Veterinary Medicine in 2003. Prior to veterinary school, he received a Master of Science degree from the University of Washington, School of Fisheries where he studied salmonid ecology. He then lived in Fairbanks, Alaska where he researched muskox and caribou behavior. While in Alaska, he met several wildlife veterinarians who encouraged him to pursue a doctorate in veterinary medicine. During veterinary school, he discovered a deep interest in companion animal medicine and surgery. He enjoys all aspects of general practice but has a special interest in surgery, both soft tissue and orthopedic, and dentistry. He is an active member of the Poulsbo North Kitsap Rotary Club and enjoys most outdoor activities and playing with his kids!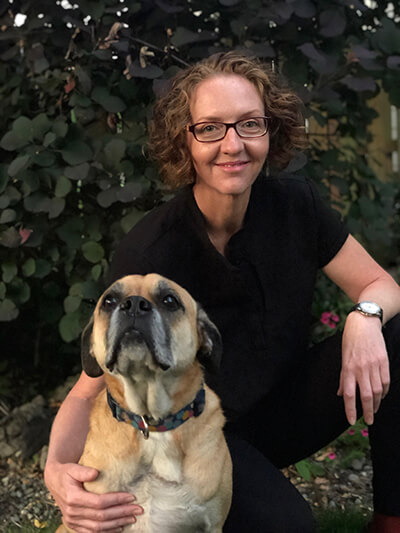 Jacqueline Blanchette, DVM
Dr. Jacqueline Blanchette graduated from Colorado State University College of Veterinary Medicine in 2003. She moved to the PNW six years ago from New Mexico and has since grown fond of the people and landscape unique to the area. Jackie enjoys all aspects of general practice, but over the years has developed special interests in soft tissue surgery, orthopedics and dentistry. As her experience with orthopedic disease has grown, so has her interest in managing arthritis in her patients. When not practicing veterinary medicine, she enjoys hiking with her husband and son, gardening, and woodworking.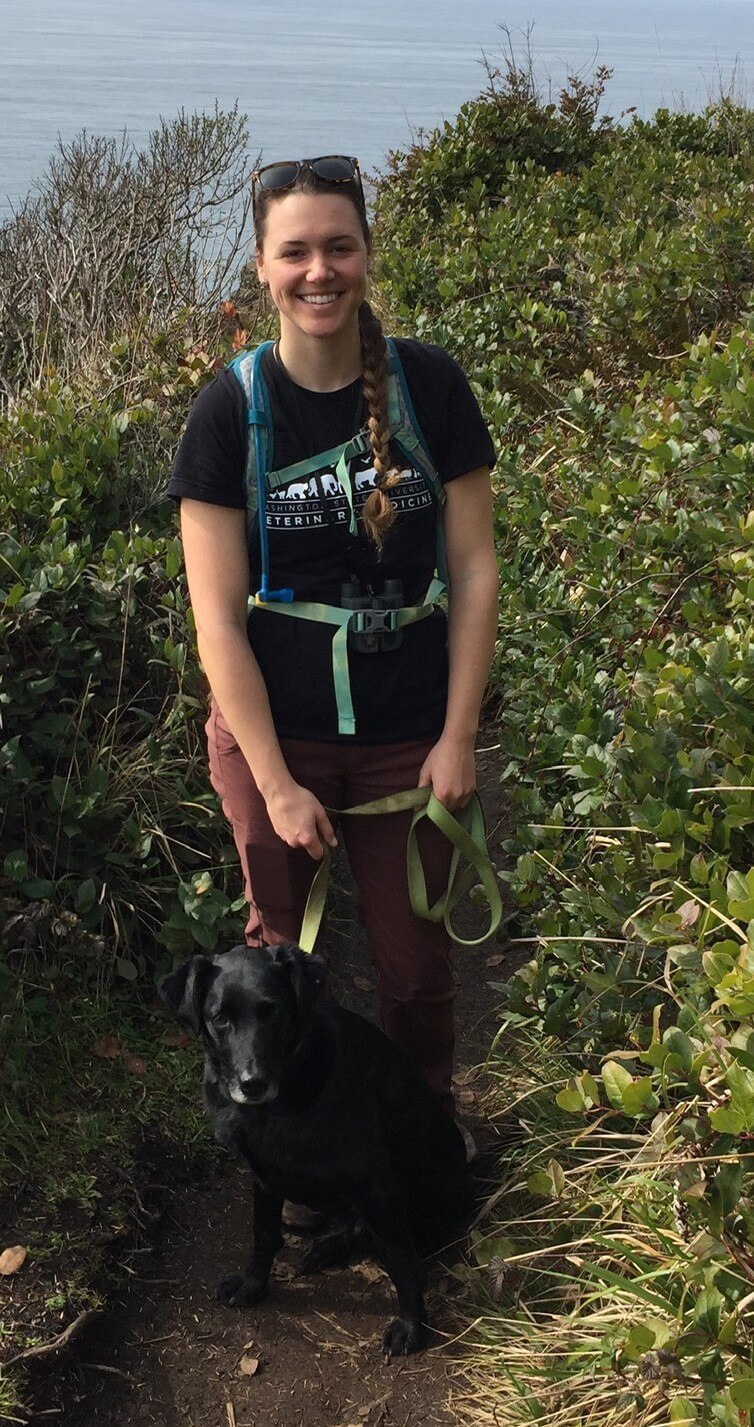 Emily Munday, DVM, MS
Dr. Emily Munday, DVM, is a graduate of Washington State University College of Veterinary Medicine Class of 2020. She is committed to a Fear Free experience for your pets, and passionate about preventative care. While she enjoys the many different facets of veterinary medicine, she has a special interest in challenging internal medicine cases, feline medicine, and caring for aging pets. In addition, before veterinary school, she studied Marine & Environmental Science and hopes to work with aquatic patients both at PAC and in her spare time. Dr. Munday's partner, Vinnie, their two dogs River and Vito, and cat Legolas are all part of her life outside of work. She is happy to be part of the Poulsbo community and looks forward meeting the wonderful clients and pets at PAC!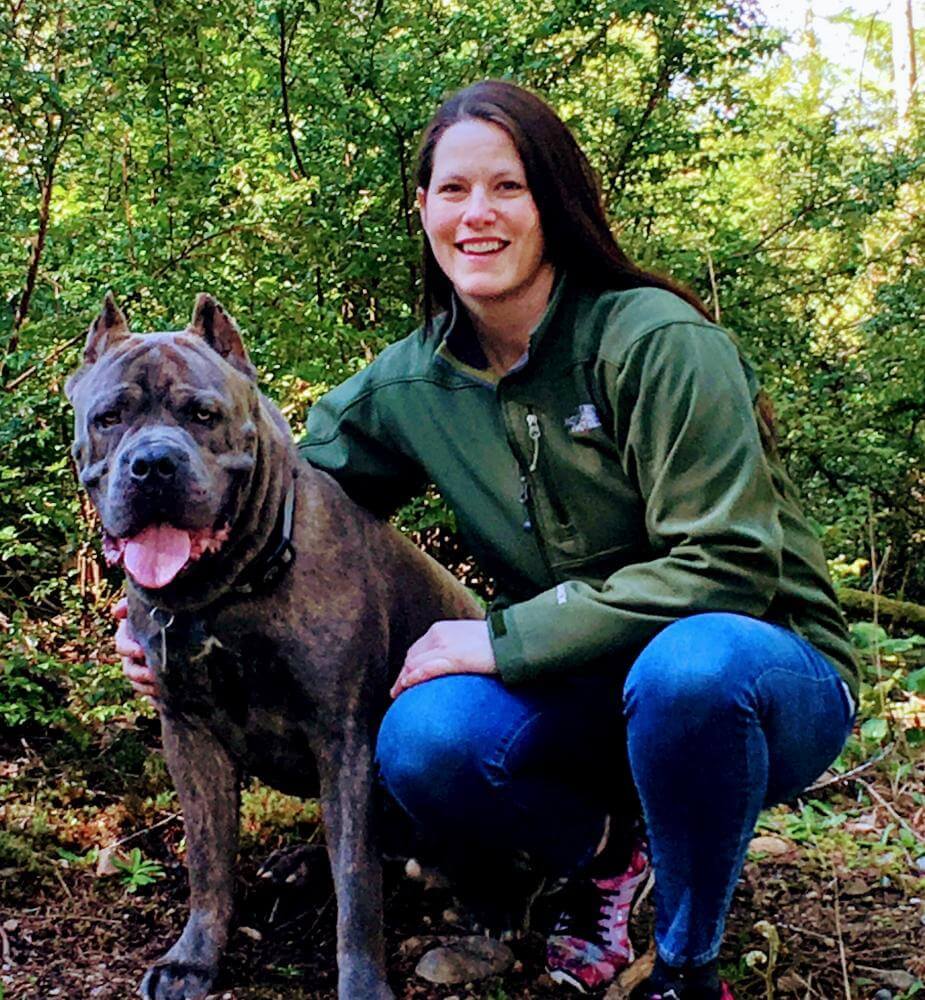 Stacy, Licensed Veterinary Technician, Practice Manager
Stacy has been working at PAC since December of 2015 but has many years of experience in veterinary medicine. Since she was a child she has had pets of all sorts, from dogs and cats to horses, ducks, chickens and frogs. Her first job as a child was in a pet store and she has never worked in a job that didn't involve animals. She obtained a Bachelor's Degree in Animal Science from Southern Illinois University. She worked with show horses and then race horses all over the country and even in Dubai. Through working with racetrack veterinarians she finally found her way to small animal veterinary medicine when she took a job as a veterinary assistant in the ICU at North Shore Animal League in NY, the largest no-kill animal shelter in the United States. From there she has worked as a Licensed Veterinary Technician in the animal ER and general practice. Originally from Chicago, she moved to WA in 2014 and made her way to Poulsbo Animal Clinic. She has two horses named Rocky and Dakota, two cats named Pepe and Kitty and three dogs named Sawyer, Gunner and Macy. She spends her spare time reading and exploring the beautiful Pacific Northwest with her boyfriend. Some of her favorite parts of life in Washington are the smell of the ocean and the beautiful mountain views.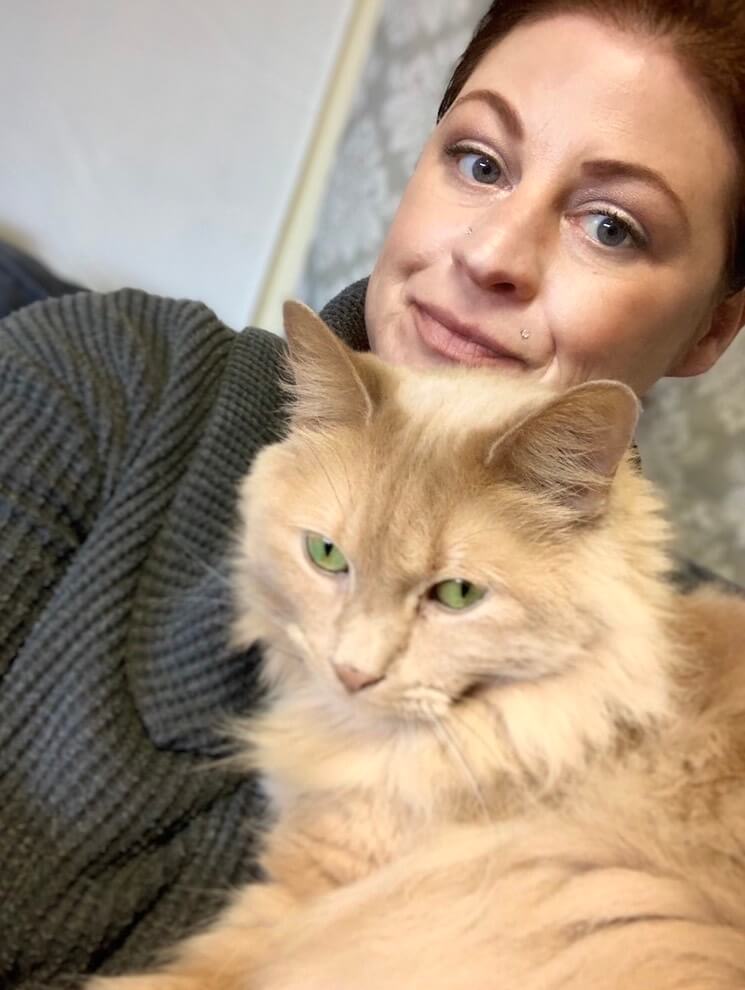 Yvonne, Lead Patient Care Coordinator
Yvonne Dew joined our team in January of 2018. She has three wonderful kiddos and two well loved cats. Yvonne loves the water and nature. If she's not at the lake or the beach, she's quad-ding or trekking around in the woods. There's an equally good chance she's snuggled up with cats binge-watching "The Office." Yvonne is also a big fan of dad jokes and puns! She loves that she gets to help keep pets and clients happy and healthy. In the time she has worked at Poulsbo Animal Clinic, Yvonne says she has met so many wonderful, caring and compassionate people and she is thrilled to be part of a team that saves pets.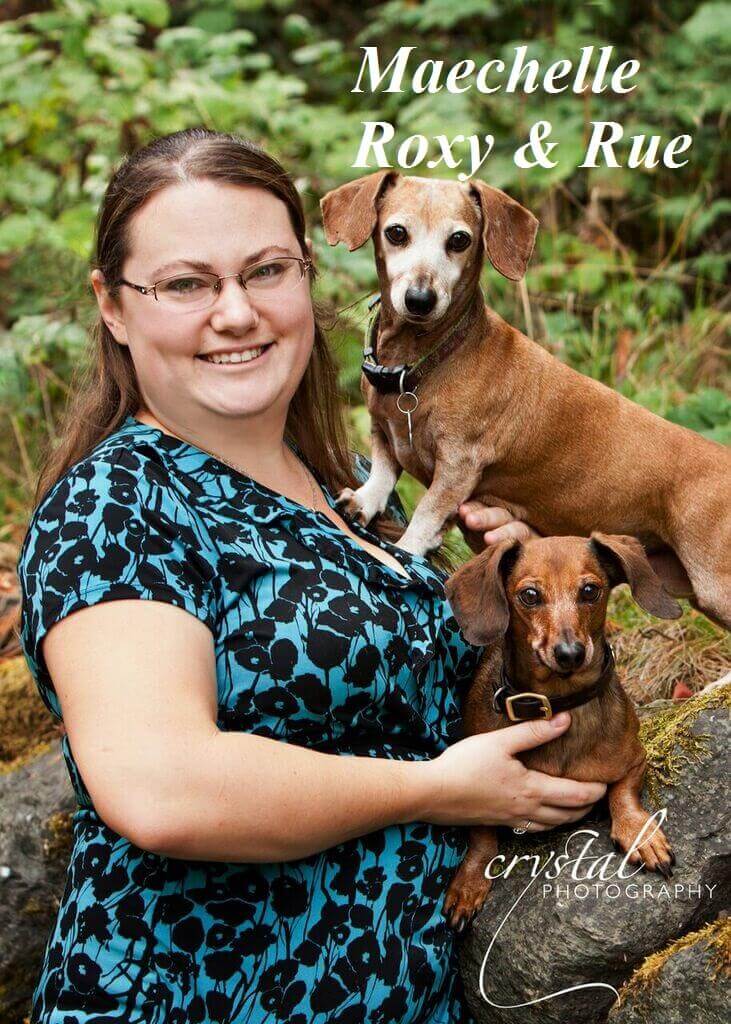 Maechelle, Veterinary Assistant
Maechelle joined the Poulsbo Animal Clinic family as a Veterinary Assistant in September 2014. She is a local girl who grew up as a part of a large farm / rodeo family in Bremerton. Exposure to a wide variety of animals, from Guinea pigs and Hamsters to horses and other livestock, fostered a passion for veterinary medicine at very young age. She shadowed an equine veterinarian through high school before landing her first job as a kennel assistant in 2007. From there she quickly moved on to reception, client care, and finally veterinary assistant. She would like eventually like to pursue a license as a veterinary technician. Maechelle started riding horses at 6 months old and started competing at 7; she enjoys both performance and rodeo events. She was a member of Kitsap County's equine 4-H program for 16 years and competed on the Washington State team from 2001-2005. During those years she finished in the top 5 twelve times. She still loves to volunteer and help out as much as possible. When not at work she can most often be found spending time with her Paint gelding Specs, who at 31 still likes to go for short rides. She loves the beauty and diversity of the PNW and her weekends are usually spent hiking and exploring with her 11 year Dachshund Rue (who is her constant companion) and her 2 year old German Shepherd Sasha.