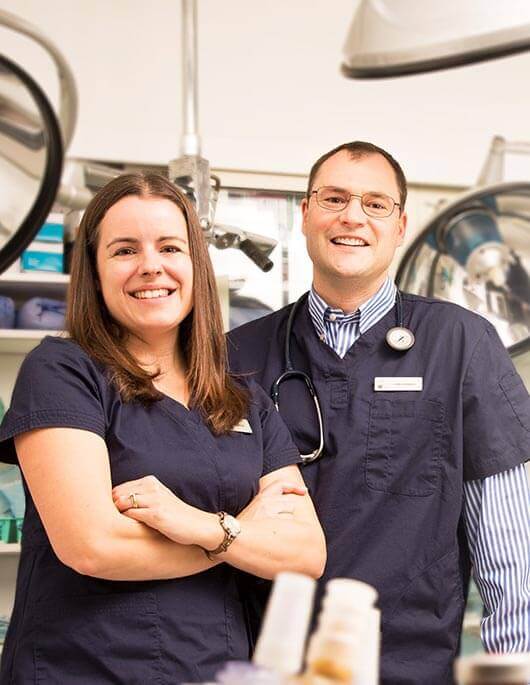 Drs. Bethany and Craig Adams
Dr. Bethany graduated from Washington State University's College of Veterinary Medicine in 2003. After graduation she did a small animal medicine/surgery internship at the University of Illinois. She and her husband moved back to their home state of Washington in 2004 and Dr. Bethany worked for several years at VCA Central Kitsap Animal Hospital in Poulsbo. There she did a combination of emergency medicine and general practice. Her passions include internal medicine and critical care. She stayed home for about two years after the births of Violet and Sawyer. Weston was born shortly after purchasing Poulsbo Animal Clinic (and a couple of months after this photo was taken). Dr. Bethany is thrilled to be in private practice with her husband, and will be seeing patients once weekly. As the practice (and the kids) grow, she will be seen more at the clinic. She enjoys horseback riding and sings in the Bainbridge Chorale.
Dr. Craig Adams graduated from Washington State University's College of Veterinary Medicine in 2003. Prior to veterinary school, he received a Master of Science degree from the University of Washington, School of Fisheries where he studied salmonid ecology. He then lived in Fairbanks, Alaska where he researched muskox and caribou behavior. While in Alaska, he met several wildlife veterinarians who encouraged him to pursue a doctorate in veterinary medicine. During veterinary school, he discovered a deep interest in companion animal medicine and surgery. He enjoys all aspects of general practice but has a special interest in surgery, both soft tissue and orthopedic, and dentistry. He is an active member of the Poulsbo North Kitsap Rotary Club and enjoys most outdoor activities and playing with his kids!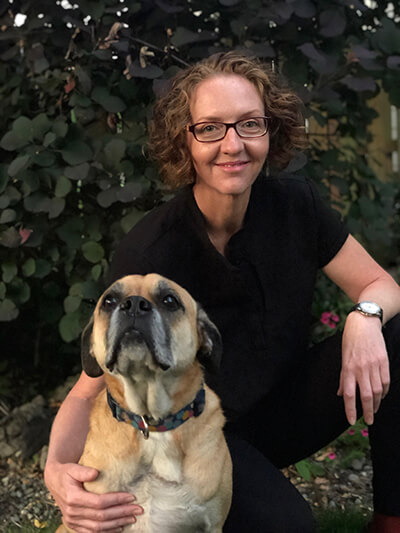 Jacqueline Blanchette, DVM
Dr. Jacqueline Blanchette graduated from Colorado State University College of Veterinary Medicine in 2003. She moved to the PNW six years ago from New Mexico and has since grown fond of the people and landscape unique to the area. Jackie enjoys all aspects of general practice, but over the years has developed special interests in soft tissue surgery, orthopedics and dentistry. As her experience with orthopedic disease has grown, so has her interest in managing arthritis in her patients. When not practicing veterinary medicine, she enjoys hiking with her husband and son, gardening, and woodworking.